Audio
Here's some additional recordings of Dr. Lambert's messages and music for you to enjoy free of charge! If the Sermon.net player below does not load in a few seconds, reload/refresh the page in your browser, and it should then load. Use the slider on the player to see the entire list of recordings available.
---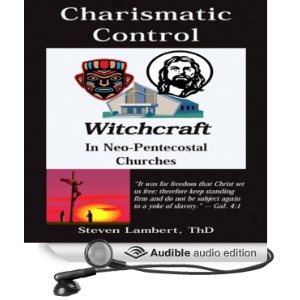 This is the audiobook of the booklet,
Charismatic Control
, which is adapted from the book,
Charismatic Captivation
, also by Dr. Lambert. It was published in response to the requests of many fans of the "big book" for a condensed version they could give to loved ones and acquaintances who they believed were part of a dominating and controlling church or ministry.
Multitudes of sincere and trusting believers are unaware victims of the heavy hand of hyper-authoritarianism, or spiritual abuse, psychological enslavement, and exploitation, perpetrated by dominating and controlling ministers and groups. They are ensnared in the web of religious captivation, and don't realize it.
The problem with spiritual blindness is its victims are totally blind to it. Likewise, the problem with deception is that the deceived are deceived about being deceived. Victims of authoritarianism are indoctrinated to accept biblically-condemned and -prohibited doctrines and practices as being proper and normative, though they are neither.
This fast-moving, easy-to-digest audiobook and booklet explains directly and concisely the paramount points and issues of Charismatic Captivation. The booklet in print and Kindle editions are also available from the Amazon-Aubible page. [Length: 2 hrs., 12 min.]
Charismatic Control: Witchcraft in Neo-Pentecostal Churches
---
Ministry of the Prophet
(Part 1)
Dr. Steven Lambert
MP3—$4.99

Fivefold Ministry is the ongoing surrogate ministry of Christ Himself to His Church—His Betrothed—which He transfered as He was ascending on High (Eph. 4:7-16). All legitimate ministry emanates from Jesus Himself and is an extension of His ministry. Jesus functioned in all five of the Fivefold Ministry Offices, as demonstrated in the four Gospel accounts.

Fivefold Ministry consists of five functions, or offices of function: apostles, prophets, evangelists, pastors, and teachers (Eph. 4:11). The office/function of the prophet along with that of apostle are foundational ministry offices of the Church Jesus is building that God Himself permanently set into the Church for the duration of the Church Age (Eph. 2:20, 1 Cor. 12:28). The office of prophet is second in the order of importance in the governmental structure of the Church only to the apostle (1 Cor. 12:28).

In this audio—Part 1 in the series—Dr. Steven Lambert, who himself has functioned in the office of the prophet for more than three decades, shares some insights on the prophetic function excavated from the Word of God and affirmed through real life experience of functioning in the prophetic office. Learn about this vital and intriguing matter of the prophetic office from one of God's tested and proven Generals!

To buy/download ($4.99) this MP3 audio recording, click on the "Add to Cart" button below; then click on the "View Cart" button when you are finished with your purchases on this page.
---
Deliverance-101 Teaching MP3:
Have you always wanted to know more about the matter of Deliverance? This TWO-PART teaching in MP3 Format, entitled, Deliverance 101, by Dr. Steven Lambert, one of the most respected and recognized experts on the subject of deliverance alive today, and founder/purveyor of one of the premier deliverance websites on the Internet, DeliveranceNow.Com, will answer many of your questions. This MP3 recording is a TWO-PART series on the topic of deliverance (others soon to come) now available for purchase/download by clicking on the "Add to Cart" buttons below. The cost of each recording is $4.99.
This teaching is basically a primer on deliverance, and addresses many of the fundamental matters, issues, and commonly asked questions about deliverance. It also helps listeners to know if deliverance is what they need, and helps to prepare listeners for deliverance, and thus is required-listening before counselees can schedule any deliverance sessions via DeliveranceNow.Com.. Once you download the MP3 files onto your computer, podcast player, or mobile device, you can listen to the teaching as many times as you want, both in preparation for deliverance and afterward to help you understand and remind yourself how to keep your deliverance and move forward.
Note: Payment is via the PayPal® gateway using any credit/debit card, but a PayPal® account is NOT required. Upon purchase, download links will automatically and immediately be sent to the email address you provide. This method of delivery as MP3 download is the only way we can provide the recordings at this low price.
Click on the "View Cart" button below after you've clicked on both "Add to Cart" buttons above:

---